The Gibson Center
Proudly Serving Senior Citizens
The Gibson Center for Senior Services is a non-profit corporation providing services to senior citizens of Northern Carroll County since 1979. Our goal is to enable seniors to remain in their homes, while maintaining a high level of independence and quality of life through the offering of an evolving array of programs and services. Our programs are designed to serve the needs of these active and passive senior residents through nutrition programs (home delivery, congregate meals and nutrition education), transportation programs for the elderly and disabled to help meet their daily living needs, social and educational programs to enable them to stay actively involved in their communities with purpose and dignity, and referral and networking programs with related community service agencies.
Greetings from The Director
Many of you commented on my working dog with her working owner. We are a pair. But there is another side of the story. I am reminded this month of the importance of PLAY!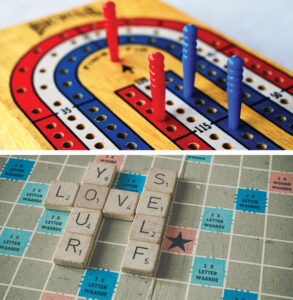 We all know as kids that play is how we learn about fantasy, how to engage with our imaginary world and find joy in the release of laughter and delight. Guess what – it is no different when we get older. Not just taking pleasure in the gorgeous scenery around us that is created when the icy branches twinkle in the early sun after a storm. That is beautiful. But we also need to frolic, romp, dance, throw our arms in the air and sing!
We need play just as much if not more as we age. It is still how we can make relationships, find trust, win and lose without huge consequences, challenge our minds and relax. I don't have to be so serious!
There are many kinds of play. Games are a quiet form of engaging our minds in something other than worry. Board games, card games, word games, and others let us take a break. My friends here at the Gibson have invited me to join them on Wednesday afternoons for a trip down memory lane to relearn Canasta, Cribbage, Pinochle, and take my turn at Scrabble. They are really eager to take the time to teach me as a new old beginner.
There are lots of New Year's Resolutions I have made and broken over the years, but I think this delayed one might be the most important. Join me – Wednesday afternoons from 12:30 on. Come out and play!
Marianne Jackson, MD
Executive Director