As residents in the area age, many of their homes may need minor repairs, improvements, and adaptations to provide a more accessible, safe and healthy living space. Individuals often find it difficult to complete home maintenance tasks either because of their own limitations or they are unable to find or afford a local contractor who is willing and able to complete these projects. To meet this need, The Gibson Center for Senior Services is
sponsoring a Staying Warm, Safe & Dry Program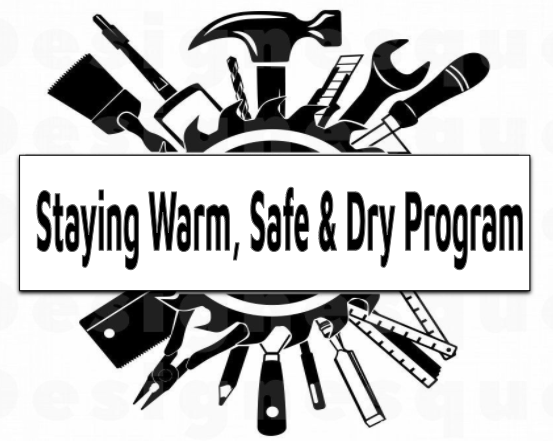 What is the Staying Warm, Safe & Dry Program?
The program helps senior homeowners of the Mount Washington Valley age in place and avoid institutionalization by coordinating access to a reliable contractor who is insured and make referrals for low and very low income homeowners to USDA for full funding up to $10,000.
Who is eligible for the program?
Senior homeowners in the Mount Washington Valley communities of:
Albany, Bartlett, Chatham, Conway, Eaton, Freedom, Hart's Location, Jackson, Ossipee, Madison, Tamworth
Fryeburg, Maine,
The request should be relatively minor(with some exceptions) and able to completed in a single visit.
Possible projects
Staying Warm
Weather stripping or caulking doors or windows
Changing furnace filters
Adding insulation
Replacing thermostats
Replacing ceiling fan
Installing window A/C unit
Staying Dry
Painting unprotected wood
Repairing fascia/soffit
Plumbing repair/replacement
Replace a piece of siding; fill small holes in soffits
Roof repair
Staying Safe
Installing hold bars, railings and other safety related items
Adding exterior security lights
Repairing/replacing rotten floor joists
Replacing rotted porch wood
Repairing/replacing steps
Rescreening/replacing porch or screen door
Adding/repairing wheelchair ramp
Replacing electrical outlets and fixtures to LED
Changing light switches to motion detected
Changing smoke and carbon monoxide detectors
Installing correct height toilets
Note: This is not a comprehensive list
How to apply:
Requests for work are called or emailed to Renée Wheaton, the program coordinator at:
Or call 603-205-0909
What happens during and after the request?
An Intake Form is completed to determine your eligibility for the program. The coordinator will contact the contractor who determines whether a preliminary visit is required to detail the needed materials, complete the safety checklist, complete necessary waivers and agreements with the homeowner and schedule a subsequent work date.
What questions will be asked?
Name and age of individuals in the household.
Physical and mailing address
Nature of request
Household income
Payment:
Homeowners will pay the contractor directly for all materials and services, OR, If a homeowner is determined to be low or very low income, the coordinator makes a referral to the USDA Rural Development Director who then works with the homeowner to obtain grant funding. If approved, USDA reimburses the contractor directly for the work done.
Our Supporters
The Gibson Center gratefully acknowledges the support of USDA Rural Development Program, Adam Fixed It.com, Tufts Health Plan Foundation

Please note:
This is NOT an emergency service. The Contractor and Coordinator will assist and schedule the work on a non-emergent basis to maximize the contractor's time.
Requests in a rental unit require written permission of the property owner if the request modifies the property in any way.
This program does NOT cover spring yard clean up or routine yard care. Exceptions could be made, for example, after a storm if a tree branch is down and needs to be cleared.
With resident's permission, the contractor will provide a home safety check. Recommendations for further work identified by this check may be requested.
To obtain more information or request services, please contact the program coordinator, Renée Wheaton at (802)-424-2074 or