Fun Programs, Classes, Trips, and Adventures
The Gibson Center has developed a HUGE menu of programs for seniors of all abilities and interest levels. Much of what we do has come directly from your suggestions, so keep them coming!
Strength, Balance, & Stretch
Taught by Exercise Specialist, Ann Fargo
CDC & NH State health precautions followed
Meets Tuesday & Thursday at 10AM
$75 for 25 classes
See Penny for the new Doctor Release form, and Liability Release Form
Veteran's Meet
Meets First and Third Wednesday at 10AM
Live at the Gibson Center
Health Precautions followed
Social and Educational Programs for Veterans
Caregivers
There are now two options for caregivers, REACH, and 1:1 Peer Support.
REACH: stands for Resources for Enhancing Alzheimer's Caregiver Health in the Community. Caregivers will meet with trained coaches and learn to solve common caregiver challenges. Meeting options are currently in-person one to one coaching or via phone or ZOOM.
Caregiver Peer Support: There are caregivers who have probably experienced your challenges and can offer a non-judgmental ear. Currently caregivers prefer phone calls so they can keep their loved ones safe.
Contact Jill at the Gibson Center, 603-356-3231 or   for more information, or to sign up for 1:1 coaching.
FunDay
Mondays at 12:45PM
Group Games
Word Search
Crossword
Jeopardy
BINGO
Yard Games
CDC & NH State health precautions followed
Chair Exercise
For people who have not exercised recently, or use assistive devices for walking
CDC & NH State health precautions followed
Meets Monday and Friday at 10:30 AM
Donations accepted
Friday Painters: 12:30pm – 3:00pm
The Mount Washington Valley Arts Association holds it's Friday Painters at the Gibson Center. Each week people take turns setting up a display, and then people paint, or color, the display. At the end, people share their work, and ask if they want suggestions.
The group is open to Gibson Center members, bring your own supplies.
Computer training by Andrea Libby of Libby Computers -Fridays
Free Tablets and Chromebooks available depending on demand and distribution from grant sources
Learn skills to communicate and connect through email and video conferencing (Zoom),
Learn how to access medical practice portals for appointments, labs and questions
Learn how to access Telehealth appointments
Internet safety
Scam Prevention
CDC & NH State health precautions followed
Limited number of attendees, call 603-356-3231 to sign up for classes at the Gibson Center
Computer tutoring 1:1 with volunteer experts
If you have other questions, besides communication, this might be for you.
Learn to use devices including phones, tablets, computers, cameras
Photos and games
Call to sign up for this one to one time, 603-356-3231
CDC & NH State health precautions followed
Tai Ji Quan: Moving for Better Balance
For people who want to improve their balance and strength
An Evidence Based program
Developed by Fuzhong Li, Ph.D
Learn to recognize when your body is unsteady
Learn the response to maintain balance, using 8 forms
CDC & NH State health precautions followed
Meets Wednesday and Friday afternoon at 12:30PM
Small Town Quilters
Bring current projects for show and tell
Bring craft supplies you no longer need, for swaps
Monthly group projects
2nd & 4th Wednesday 10AM-12PM
CDC & NH State health precautions followed
Gibson Center Day Trips
For all bus trips, please sign up, and pay in advance. Call 603-356-3231. Federal health precautions are followed on the bus. For Door to Door Transportation trips, you will be called with your individual pick up time, the day before the trip.
Please sign up for trips as soon as possible, we often need to make reservations weeks in advance.
Monthly trip to the Humane Society, to socialize Cats, first Wednesday each month, after lunch.
Thursday, February 9th, a trip to the Brownfield Community Market, for shopping. Their produce is unbeatable for quality and price. Bus donations accepted. Bring your own bags
Ride to view Ice Sculptures: after lunch, January 30th.
Tap Tap Jazz: Maine State Ballet, lunch on your own. Transportation and show, $32 due to generosity of donors. February 4th. We still have unclaimed tickets
Red Parka Pub: February 8th. Both Gibson buses will offer transportation, one will do the usual home pick ups, the other will meet people who drive, at the Gibson Center parking lot, for a drop off at the door to the restaurant.
Kancamagus Highway, frozen waterfall ride: after lunch, Thursday, February 16th.
Local Bookie Wacky Wednesday: ride after lunch, Wednesday, February 22nd.
Weston's Market, Fryeburg: after lunch, February 24th.
The Simon & Garfunkel Show: Thursday, March 9th. $78. Dinner on your own at Sebago Brewery.
After lunch bus trip to Settler's Green St. Patrick's Day Scavenger Hunt! March 17th.
Million Dollar Quartet: March 23rd. Lunch on your own at Farmer's Kitchen. Transportation and show reduced to $50, due to a very generous donation. We need 10 people registered by February 10th.
We will go to a Maple Sugar Bush, when the sap is flowing
Settler's Green Art Labyrinth: after lunch April 27th.
Beautiful Vermont: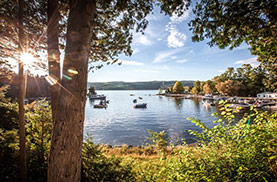 Tour Highlights:
Dinner Cruise on Lake Champlain with entertainment, Shelburne Museum, Rock of Ages Granite Quarry, Cold Hollow Cider Mill, and Maple Sugar Farm. Sign up now, cut off mid February
For full itinerary and booking, Contact Jill. Click here for the trip flyer.
Spotlight on Santa Fe: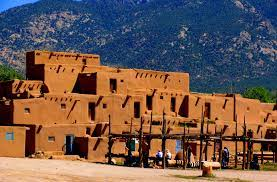 September 24 – September 29, 2023
6 Days,  8 Meals.
Trip organized by Collette
Tour Highlights:
Walking Tour of Santa Fe Plaza, Open-Air Tram Tour, Loretto Chapel, Santa Fe School of Cooking, Turquoise Trail, Allan Houser Sculpture Garden, Bandelier National Monument, El Santuario de Chimayo, Choice on Tou
For full itinerary and booking, click the link below:
Lancaster Show Trip: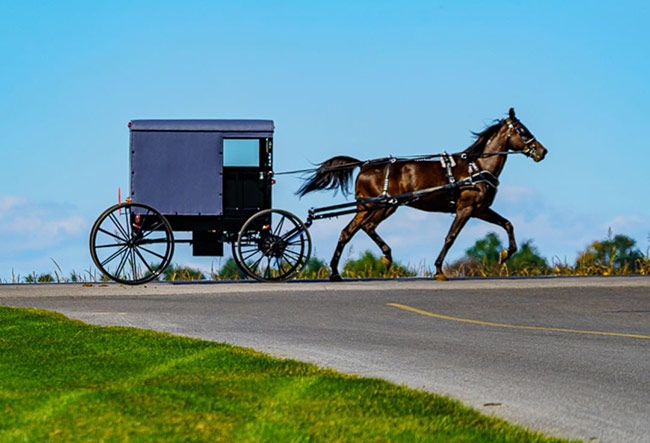 September 18 – September 21, 2023
Tour Highlights:
Explore Amish Country. Enjoy two shows: Sight and Sound Theaters Moses; and a show at Magic & Wonder Theater. Includes breakfast and dinner each day, with mouthwatering Amish inspired cooking.
For full itinerary and booking, click the link below: