The Gibson Center
Proudly Serving Senior Citizens
The Gibson Center for Senior Services is a non-profit corporation providing services to senior citizens of Northern Carroll County since 1979. Our goal is to enable seniors to remain in their homes, while maintaining a high level of independence and quality of life through the offering of an evolving array of programs and services. Our programs are designed to serve the needs of these active and passive senior residents through nutrition programs (home delivery, congregate meals and nutrition education), transportation programs for the elderly and disabled to help meet their daily living needs, social and educational programs to enable them to stay actively involved in their communities with purpose and dignity, and referral and networking programs with related community service agencies.
Greetings from The Director - The Cold of Winter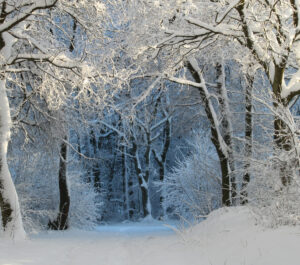 While driving home from my Thanksgiving in North Carolina, I had the great pleasure of listening to audiobooks, (these are my favorite passengers) one of which has changed my attitude and delight in unexpected ways. The book, by Katherine May is called Wintering. Like many books, it sometimes only takes a few pages of the hundreds to hear the message you need to hear. Her message to me was to stop fighting it, stop being a curmudgeon and instead to prepare and embrace the winter, the darkness, the cold and bracing winds and wet. Following an illness, she travelled to Iceland to watch the Northern Lights, to Stonehenge to experience the ancient celebration of the winter solstice, and even kept a commitment with a friend to daily race into the icy sea near her home on the edge of England all through the winter, even if for only a few minutes. She knew spring would come but she was not going to miss out on the adventure of winter. She also read voraciously and slept 9-10 hours a night.
Since coming home I have challenged myself to walk every day outside, sometimes in Whitaker Woods, sometimes near my home and occasionally at dark up and down Route 16 at the end of the day here. I do it because I can and because it is beautiful and because I realize these are the days I am given that I will not wish away.
I hope for all of you a wintering that brings you joy, or contemplation or a time to rest. And, if you would like to be more active – check out the remarkable offerings Jill has in Special Events this month.
Marianne Jackson, MD
Executive Director