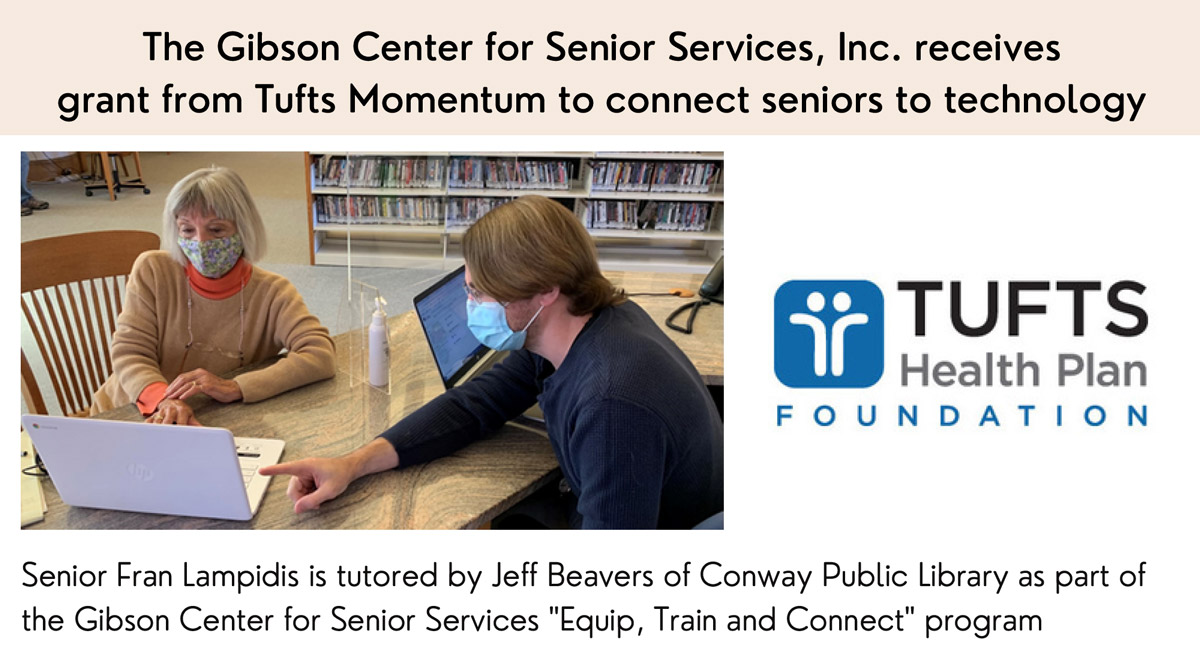 North Conway, NH – The Gibson Center for Senior Services has been awarded a $10,000 grant from the Tufts Health Momentum Fund to "Equip, Train and Connect" seniors to internet technology during the pandemic.  Many seniors in the Valley have experienced social isolation and reduced access to healthcare since March.  The intent of the program is to be sure all participants can use email, complete internet searches, join Zoom and TeleHealth conferences.
Significant contributions are being made by other professionals of the Valley including Tom Albert of Computer Port, Andrea Libby of Libby Computer, the Visiting Nurse Home Care and Hospice, and the Conway Public Library.
Marianne Jackson, M.D., and Board Vice President of the Gibson Center noted that "During COVID-19, we have become much more aware of our population of seniors who do not have the computer equipment, capability or internet access they need.  It is another example of the digital divide.  We are very grateful to the Tufts Momentum Fund and our community partners to bridge that gap."
To EQUIP those in need, the Conway Public Library will be hosting a "Computer Hardware Donation Day" on November 7th from 9am to 1pm. If you have a working PC laptop or desktop with Windows 7 or later operating system to donate, stop by the library on November 7th.  All donations will be refurbished by Tom Albert of Computer Port and provided at no charge to seniors in need. The Community School in South Tamworth donated the first 8 desktops and laptops.
TRAINING will be one-on-one sessions at the Conway Public Library or with Andrea Libby at the Gibson Center by appointment.  Participants will use their own equipment or our refurbished computers.  Each participant will continue until they are comfortable with email, simple internet searches, Zoom activities and Telehealth.
This will allow seniors to take advantage of the many online services and social/enrichment programs offered in our rural area.  We have a collaborative model developed through our AARP Age-Friendly Regional Initiative to bring our libraries, OLLI, VNHCH, our healthcare providers, and many non-profits together.
"The Conway Public Library is thrilled to be working with the Gibson Center on our shared goals of enriching senior citizens' lives in our community and closing the digital divide," stated David Smolen, Library Director of the Conway Public Library.
CONNECTING is difficult because of the costs of internet service that remain a barrier for many low-income seniors.  The Gibson Center is reaching out to the Governor's GOFERR Covid-19 relief funds to help defray monthly costs during the months ahead of Covid-19 isolation.
According to the Centers for Disease Control and Prevention, loneliness, and social isolation in older adults are serious public health risks.  Isolation can impact health such as dementia, weight gain due to physical inactivity, heart disease, depression and anxiety, and other health ailments.
If you know of someone or are interested in one-on-one training sessions, please call the Gibson Center for Senior Services at 603-356-3231 or the Conway Public Library at 603-447-5222 set up an appointment.